Top 10 Mobile Product Managers Skills to Master in 2020
August 28, 2019
2. min read
Last update on:
September 3, 2019
"A great product manager has the brain of an engineer, the heart of a designer, and the speech of a diplomat."
It goes without saying how precise this quote is. The role of a mobile project manager goes beyond the role of a manager.
It requires a honing of technical, managerial, organizing, and creative skills―all clubbed in a single person. Being a product manager is a hard nut to crack, but worth every single effort put into the process when the results are exemplary.
Before jumping to the qualities of an ideal mobile app product manager, why don't we first clear the air about the term "Product Manager" itself?
Who is a Product Manager?
Well, Product managers are the ones who abet at interdisciplinary thinking by collaborating with the other branches such as engineering, design, and strategy personnel, in order to ideate, iterate, and then launch the final product.
In standard terms, product management is a convergence of technology, business, and user experience. So, a proficient Product manager ought to be an expert in at least one of the three while being zealous and conversant about all.
Their work and tasks, in general, are in alignment with the organization's goals. Nevertheless, they also prioritize the interests of the team under their wings.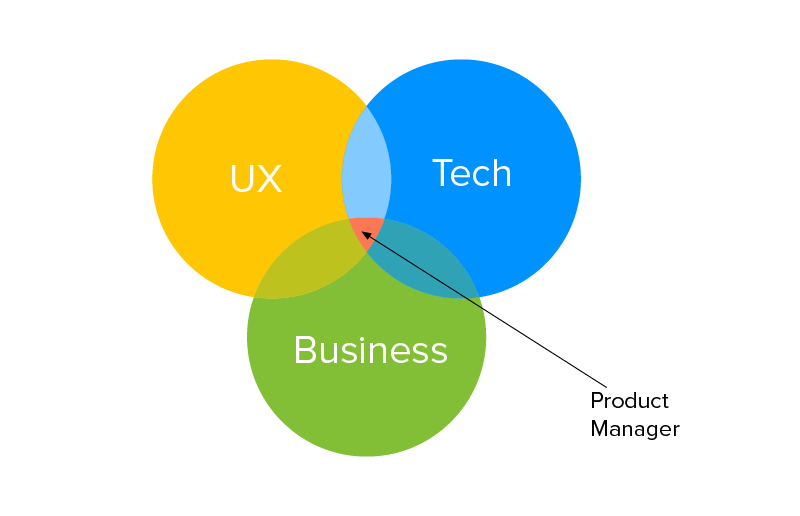 Key Responsibility Areas
Defining the responsibilities Product Managers fulfill on a daily basis can incur a tediously long list. So for you, we have segregated the responsibilities into four prominent areas:
1.

Strategize via Roadmap

A team can only submit the best after knowing the importance of that particular product in terms of business value. It falls upon the product manager's shoulders to articulate and justify the release of a new product to the team to drive an exemplary performance.

A product manager needs to develop a vision of the product life cycle and establish a global strategy for others to follow.

A well-thought of and carefully-designed roadmap can work wonders in the whole process. It helps PMs to determine their priorities, systematize, compose ideas and initiatives, and plan the terms of implementation.
2.

Analyze and Prioritize ideas

To Product Managers, ideas come in bulk. However, not every idea that pops up is a gem that one must possess. With that said, it is the job of product managers to study the ideas that are brought forth, and choose the most innovative and useful ones from the sea of them. Once it is done, it is time to prioritize them and discard the rest.
3.

Features Inspection

One of the prominent jobs performed by mobile product managers is to scrutinize the features of a product and align them with the strategic goals and initiatives of the organization. This task requires the acquisition of complex trade-offs, as the efficiency of the product is a must for both customers and the company. Hence, the involvement of the development team and PM's technical background is paramount.
4.

Launching Final Product

It is evident that without proper mobile product launch strategy, the product is bound to face the ups and downs upon entering the market. This problem is taken care of by the competent product managers, who plan the team's actions and timings, irrespective of what kind of development methodology is used. The said actions can include the removal of barriers, bugs-fixing, reconciliation between marketing, support, and sales teams.
Product and Project Managers- what's the difference?
The first thing to keep in mind is not to confuse one for the other. Now, in the most superficial sense, both can be attributed as―
"Product managers deal with the What? and Why?, project managers with the How? and When?"
With that said, let's dig a little further into the definition of both.
Product Manager is the one given the responsibility to set and own the overall product direction while managing and supervising the whole product lifecycle. It falls under their expertise to analyze user demands, decode them into a design or an MVP and then direct the development team towards its fulfillment.
Whereas the role of a project manager is a little more tactical with full focus on the execution of the project. They acquire the product vision from the project manager and build a project timeline around it. They mainly create plans containing goals and deadlines for the team for project completion. Moreover, it is their cup of tea to finalize one-project-at-time within the agreed time-frame, quality, and budget.
Before you start wondering whether a person can be both, the answer is Yes. However, it is not a situation an organization looks forward to.
With the basics out of the way, we have come so far that it's unlikely of us not to mention the absolute mobile product manager skills, a person should seek while hiring a project manager. Or, if you are one, these qualities may help you do your job more proficiently.
So, let's cut to the chase and dive into what goes into a person to make an efficacious, proficient and exemplary product manager.
1.

Profound Leadership skills

It is a basic yet prominent quality that every team leader or manager should possess, irrespective of their profile. As easy as it is to say, to be a "great leader", there are numerous components working together to denote its true meaning. So, here are a few product manager leadership skills to perfect in 2020 that certainly denote a potent leader:
Proactive instead of Reactive- Anyone can put out fires once lit; however, an exemplary product manager not only does that but also prepares ahead for unanticipated problems. He/she also prepares the team for the same with effective measures and training.
Trust- Having faith is something that shouldn't be taken lightly. Trusting your team members plays a pivotal role in the smooth functioning of the team. By trusting them, you do not give up the impression of pulling the strings yourself and the concept of micro-managing is completely avoided.
Team spirit- As much convenient as flying solo might be, a great product manager also understands the importance of team spirit. Promoting this feeling within your team will evoke the feeling of importance among the members, and they will strive to deliver incredible results.
Ability to inspire- Imagine what a team it will be who gets inspired by the manager every day―learns new tactics and qualities to manage and handle everyday scenarios. A charismatic product manager who motivates others to follow his/her path is way more successful in increasing the team's productivity, then those who don't.
Visionary- It is crucial for product managers to not get sucked into a Vacuum of repetitiveness. An ideal product manager is the one not just working towards another release but is passionate about bringing new vision into existence. They have to be farsighted in conjecturing probable problems and devise solutions and ways that profit the end product.
2.

Relevant experience in Product

It is sort of a given that no person can be good at something when he has a layman experience in hand. Nothing can beat experience; so for a product manager to be a remarkable one, he/she must have prior experience with the product type they are given responsibility for now.

This way, he/she has a first-hand account experience of probable obstacles, tactics to use in certain situations, and also to find real-time solutions. Managing things with the on-going process is not a piece of cake but with the power of experience, seasoned product managers can do it single-handedly.
3.

Employ agile methodology

Being a product manager, the most important thing for you is to manage your product, bearing the concept of launch in mind. For this purpose, devising a product roadmap is inevitable, through which you can manage iterations of your product. This can be achieved by adhering to the agile product management process.

Adopting the agile methodology while preparing a pliable roadmap is key to fruitful outcomes. A stiff roadmap, incapable of providing flexible timelines and updates is the catalyst for the failure of adjusting dynamic market conditions or users' demands.

So, an insightful product manager uses this method to develop a roadmap that helps in catering to the needs and demands of users along with keeping up with dynamic trends.

4.

Practice strong work ethics

A product manager has to have strong work ethics like commitment, effort, hard work, and integrity while fulfilling their responsibility as a backbone of the whole operational process.

To pass as an exemplary new-age product manager, managers are required to work harmoniously with senior management and executives. By following the said work ethics, they inspire teammates to follow their example and emit a positive attitude into the organizations' ecosystem.
5.

Split testing to promote team ownership

"A good product manager doesn't ruin their credibility by over-stating their knowledge." – Ben Horowitz

As a product manager, it is not solidified that only you should give ideas; letting other teams under your wing to speak up their minds may provide you with innovative and different ideas. It may sound confusing at first, but employing the renowned A/B testing methodology (split testing) can fetch amazing results for the team.

Here is how a proficient product manager uses the A/B testing method for encouraging others to suggest ideas.
They organize discussions where ideas are brought forth.
Selecting ideas from different teams to A/B test.
Exploring the ideas in relation to their relevance and effectiveness for the product vision.
Employing the ideas with more ability to benefit the product vision.
By doing this, the product manager promotes team ownership and increases the ability of team collaboration, while showing each idea matters, irrespective of where it comes from.
6.

Thorough knowledge of "street statistics"

Data is an important tool for any product manager for it guides their product decisions. However, an effective product manager has to know how to decode this gem of information.

When a product manager has a profound knowledge of how to read the data which tells us about the features popular among users, what they do within the product, and how well they like it, they can take measures to optimize this data. They can even check how the revenue flow of the company is.

Say, for example, to run a behavioral analysis, a product manager needs to create behavioral cohorts, and for this, they just have to understand what the data is representing.
7.

Basic understanding of code

Generally, coding is not a product manager's cup of tea, but wouldn't it be great if they take a sip?

Coding is a crucial part of the product development process and in order to resolve issues that come in the way, a product manager should possess reasonable knowledge of the same.

One way to start is to start asking questions about what you do not know and understand. Even a brief understanding of coding will enable you to understand the problems your team is facing, devise viable solutions and establish relevant deadlines with developers.
8.

Master UX Design and Analytics Tools

A product manager is not only required to be obsessed with the number but also the attributes their product possesses. Understanding UI/UX Design helps the product manager to maintain relations with UI/UX Design teams. They are the ones to convert your product vision into reality and having a profound idea about the whole concept gives you the benefit of collaborating with the team to deliver exactly what the customers' needs and are attracted to.

Analytics Tools are the best friends of product managers if they use them well. They are two prominent areas a product manager should be familiar with regarding analytics tools:
Study and analyze how each tool assists you in finding product-related queries.
Examine which analytics tools are best for your purpose and how they can be optimized.
9.

Preach Empathy

Empathy is the key element in the growth of a product manager, which allows them to understand the emotions expressed by their team and also the omnipresent customer, who isn't physically present there.

An organization can only be successful when their primary focus is on the customers they are targeting. It is also essential in feature negotiation. After having an understanding and empathy for developer teams, stakeholders, and customers, product managers stand a strong chance at arriving at mutually beneficial decisions.
10.

Expert in marketing and the latest tech-stack

As the watcher of your whole product development team―from developers to designers to digital marketers, product managers are the ones holding everything together.

In this respect, being a jack-of-all-trades is an essential quality for them. For effective development of the product vision, they have to be updated with all the latest technology and trends.

Technical -know-hows comes under mobile product management best practices in 2020 and poses as pivotal for bringing everything together into a neat bow at the time of product completion.

Moreover, they are also responsible for the promotion of the product they have so ardently created and have a deep knowledge of the current market they are targeting. So, they need to be exceptional in product manager marketing skills.

Here are a few factors of marketing, an exemplary product manager is proficient in:
Target Customers and Market-

As discussed above, empathizing with the targeted customers by examining their needs, demands, preferences, priorities, etc. is something which proves to be fruitful in the long run. A good product manager with incredible marketing skills will not neglect this important aspect.
Product –

Being thorough with the product developed, in respect of its promising qualities and also the weaknesses, a product manager will devise such

mobile product marketing strategies

that are tried and tested, and if not, capable enough to complement their

mobile product development

and guarantees its popularity.
Analyze Competitors-

Surveilling one's top competitors

fall under the key roles of an efficient product manager. By doing so, a PM can extract information on current demand, what strategies they use, how they attract customers, etc., and then he/she can take appropriate measures to beat the competitors at their own game.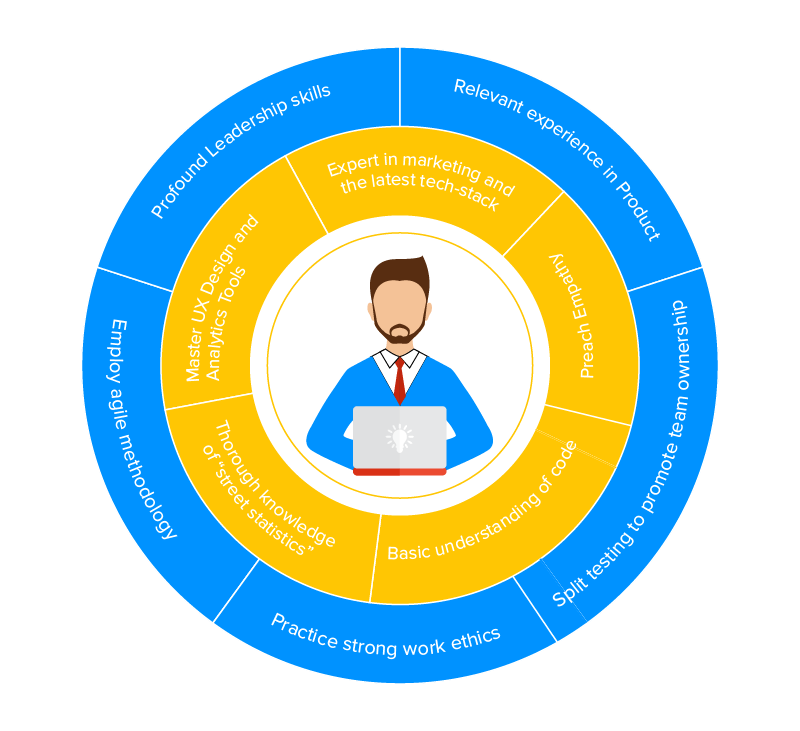 Conclusion
We are certain that with amazing and essential qualities such as the ones mentioned above, anyone is capable of enhancing their mobile product manager skills and join the list of brilliant new-age product managers.
Speaking of the importance of mobile product managers, they are a pivotal cog in the machinery of organization and essential for uninterrupted and smooth mobile app development.
Frequently Asked Questions (FAQs)
Ques. What Makes a Great Mobile App Product Manager?
There is a sea of mobile product manager skills to master in 2020, but the most prominent that stand out are the ones that enable them to achieve goal-oriented results. Some qualities like using agile and A/B Testing methods, practicing business ethics and empathy are the best traits of a competent product manager. Being proficient in marketing and having a thorough knowledge of other operations of product development just add to the list.
Ques. Why do product managers need to know UX?
One of the many product manager leadership skills is to be involved and indulged with other operations that go into the product development process. So, for this reason, it is important to develop mobile product manager technical skills and know briefly about the functions of UI/UX Design, so if any obstacle arises, it can be easily resolved.
Dileep Gupta
Chief Delivery Officer
In search for strategic sessions?
Let us understand your business thoroughly and help you
strategies your digital product..
Related Articles: