Bird eScooter Statistics: The Proof of Its Dominance in Ride
September 2, 2019
2. min read
Last update on:
September 19, 2019
In the past few years, various startups have successfully gained the limelight in the market. While some startups emerged as a clone of multi-billion dollar companies, others focused on different aspects and changed the whole landscape of their industry.
One such startup that promised and brought a new scope in the transportation arena is Bird.
Bird set the foundation of a new mode of daily commute with the introduction of electric scooters. A mode that is fast, eco-friendly, and economical than any other existing mode of on-demand commutation.
It set a benchmark for another reason to businesses to ride the uprising 'Uber for X' wave, and brought a significant change in the marketplace. Something that can be proved by the many Bird electric scooter statistics we will cover in this article.
But, before we jump to that part of the article, let's dive deeper into the eScooter market and know more about Bird's role.
Bird – The Pioneer of eScooter Sharing Economy
Founded back in 2017 by Travis VanderZaden, Bird is a dockless eScooter company that offers users an ecologically-friendly commutation experience. The company is based in Santa Monica, California (USA) and is operative in Europe, USA, and Asia – covering more than 120 cities across the globe.
The company became the fastest startup to become a 'unicorn' and landed more than 2M riders on the road. It raised a funding of $415B in different series rounds to build its empire in the On-demand sector, about which we will study in detail in the next section of the article.
Fundings Raised by Bird Company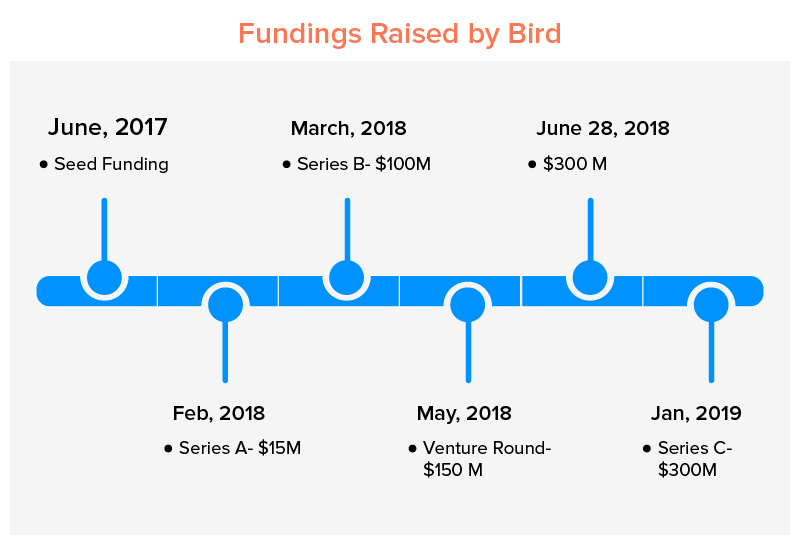 Bird received its seed funding in June, 2017, then it grew on to raise further funding of $15M in Series Round A from Craft Ventures in February, 2018. Then, it raised funding of $100M in Series B round in March, 2018 from Index Ventures and Valor Equity Partners.
In May, 2018, Bird raised a fund of $150M in venture round led by Sequoia Capital, followed by an additional $300M funding round.
In January, 2019, the eScooter sharing startup raised Series C funding of $300M from Sequoia Capital, which brought its valuation up to $2B. And now, as announced in July, the company is heading towards raising a Series D funding to gain a total valuation of $2.5B.
With the help of these fundings, Bird introduced various new eScooters and other facilities.
Types of Scooters Launched by Bird (& Other Interesting Innovations)
1.

Bird Xiaomi M365

Xiaomi M365, also called the Xiaomi Mi Scooter, is the earliest scooter model used by Bird. It comes up with a single disc brake in the rear, two riding modes (eco and regular), and batteries stored inside the bottom case of the model. It operates at 18mph, offering quite normal commuting experience to users.

However, it has air filled tires which, when get flat, can operate efficiently only when the tube is replaced.
2.

Bird Ninebot ES2

Bird Ninebot ES2 is lightweight, foldable, and move at a speed of 15mph. It offers the best of speed, acceleration, and range along with features like braking resistance, custom underglow lights, and cruise control.
3.

Bird Ninebot ES4

With a speed of 19mph and range up to 28 miles, the Ninebot ES4 scooter model offers quick and accelerated experience than ES2 model. It comes with all the features its preceding model had, alongside an additional battery on the front.

Also, these scooters have front and rear suspension that helps with handling bumps and cracks in the road.
4.

Bird Zero

Bird Zero is the first eScooter designed by Bird. It is designed in a way that it offers a longer wheelbase with minimal center of gravity, and 60% more battery capacity than Xiaomi's M365.

Moreover, it also comes with battery indicators and speedometers – the features that were earlier present in Lime's scooters only.
5.

Bird One

Bird One is a custom e-Scooter that's far robust, durable, economical, and long-lasting than anything Bird earlier made. The scooter operates with a 473Wh and has upgraded features like 9-inch semi-solid tubeless wires, GPS-powered anti-theft device, and digital lock that can be activated with the Bird eScooter sharing app. It also has access to the Bird Hunter network that works for recovering missing scooters.

With all these features, the scooter can take a ride of 30 miles in a single charge, along with enhancing stability and protection from bumpy roads.

This model, as revealed by Bird, is available in three different colors at the cost of $50 less than that of Bird zero.
6.

Bird Two

Bird Two is the latest addition to the vehicle set used by Bird for offering exceptional micro-mobility experience.

The new eScooter model comes with 50% better capacity that Bird One and features like dual anti-tipping kickstand, self-reporting damage sensors, and improved anti-theft encryption.

Besides introducing different scooter models and acquiring Scoot, Bird also created a platform for small businesses to enter the ride-sharing economy.

Popularly called Bird platform, it gives business owners an opportunity to buy Bird scooters, rebrand them, and use them in their business. And the price of a scooter rental for these businesses would be just 20 percent of fare per ride.

"The e-Scooter movement has never been just about one company, one city, or one way of providing a service," Bird founder and CEO Travis VanderZanden said. He further added, "With Bird Platform, we encourage new entrepreneurs and existing local businesses in all cities to join the effort to get cars off the road. We look forward to this next chapter of shared e-Scooters".

All these Bird scooter innovations made the brand emerge out as a synonymous of promises that eScooters hold in the micro-mobility economy. They made the startup become a favorite of users, businesses, and others, something that can be proven from the following Bird electric scooter statistics.
Bird Electric Scooter Statistics Proving its Impact on the Economy
1. When talking about Bird electric scooter market size, the brand started from Santa Monica and is now operating in more than 120 cities across the USA, Europe, and Asia. Something that showcase that the brand is becoming a global identity.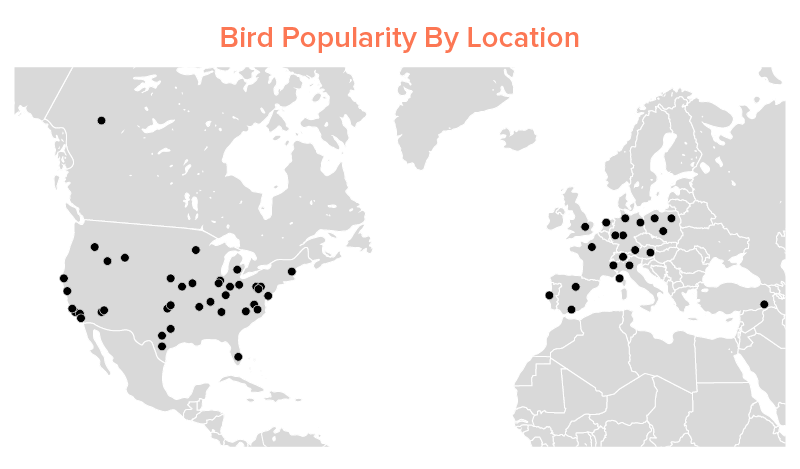 2. A significant rise has been recorded in the monthly rate of Bird scooter mobile app installation over 7 months.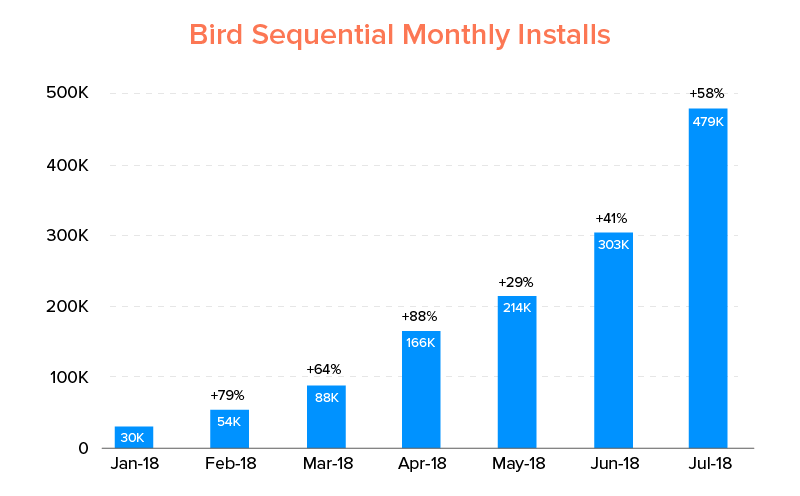 3. Likewise, Bird electric scooter app has also enjoyed a considerable rise in the weekly installs in the same time period.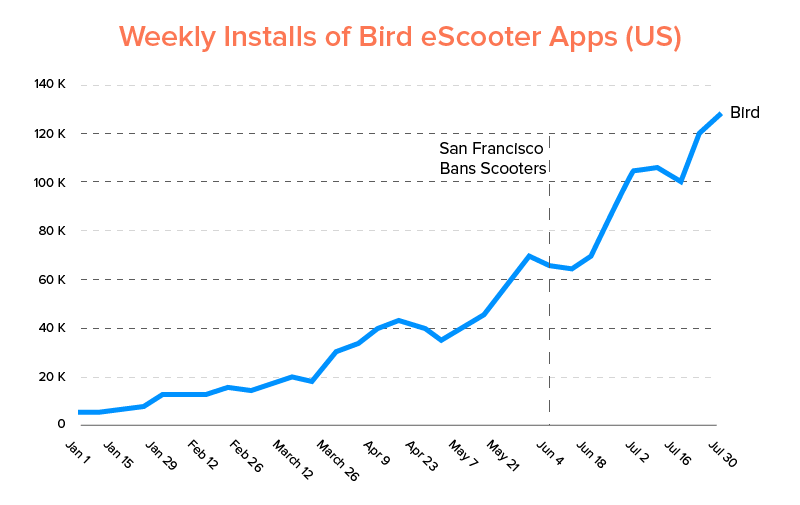 4. Despite growing accidental incidents, Bird is getting a positive response from both males and females.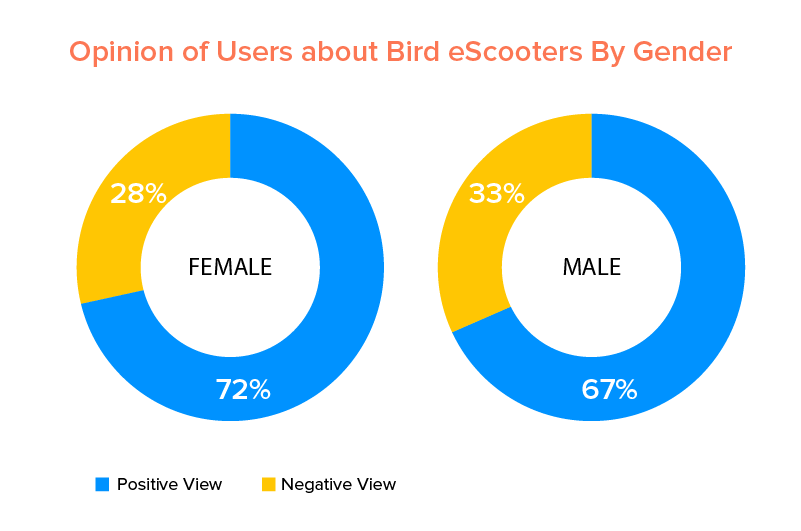 5. Another Bird electric scooter demographics shows that people from all the income sections are showing their preference to this new mode of micro-mobility.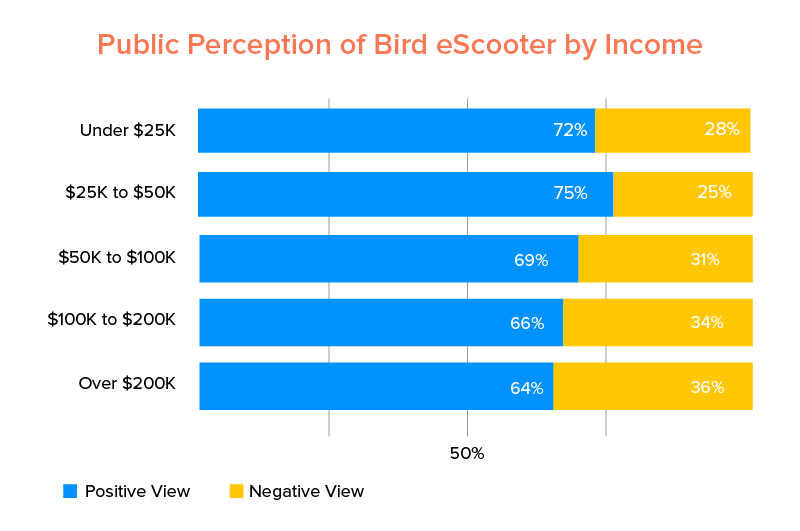 These Bird electric scooter statistics have defined that the market introduced by the startup has limitless possibilities and revenue generation scope. This has encouraged various businesses show an interest in this domain.
In case you are one of those, going through this in-depth guide on starting an eScooter app business, consulting the best eScooter app development company and being familiar with Bird's business and revenue model will also be helpful.
So, let's not wait and turn towards Bird's business and revenue model and see how they earn money.
Business and Revenue Model of Bird
Electric scooter sharing companies like Bird operates and earn money much like how the ride-sharing startup, Uber does. It provides users an opportunity to find an eScooter via mobile app and hire one for a ride. Upon ending the ride, it charges a fixed fee per trip, alongside an additional amount per minute.
It also looks into charging and maintenance services, which adds to their business model. And eventually, bring a major difference in the Bird scooters pricing structure.
Wondering how? Let's take a glance at the Bird's revenue and expense drivers to know the scope of profitability of the business. And eventually, determine how fast you can recover the investment made in terms of Bird eScooter app development cost.
Bird's Revenue Sources
The Bird eScooter revenue models sways with different modes, such as:-
Fixed

Bird scooter cost

Per Trip – $1 per trip

Additional Fee Charged – $0.15 per minute

Average Duration of Trip (in Minutes) – 25

Average number of Trips a Scooter Makes in its Lifetime – 300 Trips (5 per day)
With this estimate, Bird earns a revenue of around $1,425 per 300-ride lifetime of a Scooter.
Bird's Expenses Drivers
The areas where Bird eScooter brand spend upon are:
Acquisition Cost per Scooter – Around $400 per ready-to-use Scooter (this includes cost of scooter, cost of acquiring, and that of installing a GPS tracker in the vehicle)

Cost of Charging eScooter – Nearly $20 per eScooter (this includes the cost to pick eScooter from its current location, bring to the charging point, and return to its suitable location.

Reimbursement to Users for charging Scooters – $5

Percentage of Charges done by Users – 50% of the time by Users and the remaining 50% by Bird
With this estimate, the average charging cost, maintenance charges, and payment fee per ride comes out to be $2.5, $0.29, and $0.14, respectively.
The aggregation of two values gives a clear indication that a Bird eScooter makes around $3.62 per ride.
While these Bird scooter stats, user responses, and revenue numbers showcases that Bird has been living the best, the startup has encountered various challenges to sustain in the market.
Something we will talk about in the next section of this article
Challenges Faced by Bird (And How It Mitigated Them)
1.

Government and Regulations Issues

Since dockless scooters is still a new concept, many cities and governments were resisting the idea of embracing this new mode of micro-mobility. They were either banning them completely or introducing different regulations to them.

However, the scenario is changing now. With Bird, Lime, and Spin gaining momentum in the marketplace, the awareness about these scooters and their working is increasing. An outcome of this is various cities are warming up to the idea of its adoption, such as New York, Japan, or Germany.
2.

Environmental Issues

Because of the short lifespan, the shared electric scooters were raising higher emission and lowering down the environment benefits. This was emerging out as a question upon its existence as an eco-friendly transportation mode.

Bird and other electric scooter sharing companies have dealt with this issue by embracing the growing movement around the circular economy and employ their supply chains to bring considerable changes.

Besides, these scooters are not able to enter the market with harsh weather conditions. For example, Miami has recently asked all the electric scooter companies to take their fleet out of roads to prevent possible hazards while Hurricane Doberian is in.
3.

Accidental Issues

When focusing on the rising accidents, it has been found that the two prime causes are lack of proper knowledge of using scooters on the road and lack of infrastructure.

For the first issue, bird continued to launch more improved scooter models and has shared its Safety Rules report publicly – giving users access to safer ride.

While dealing with the second one, Bird announced donation of $1 per vehicle per day to the city for improving the infrastructure.
4.

Competition

Besides this government pressures and internal issues, Bird has also faced a tough competition from other dockless scooter companies time and again.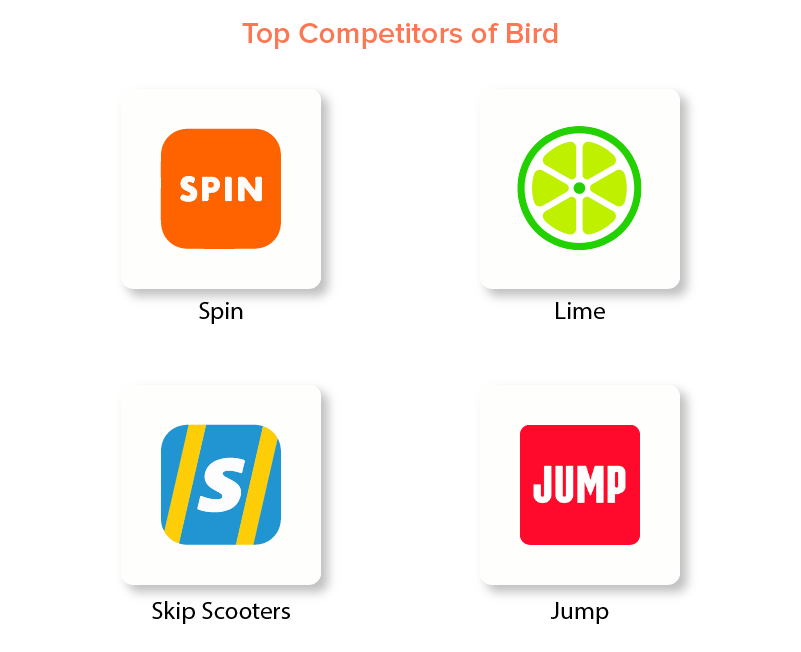 These top competitors and alternatives of Bird were residing in the market much before it and thus, found easier to enter a new domain and leverage the benefits of the opportunities.
Besides, they were financially stable, had a reputed brand presence and continued to introduce new scooters, and other policies that made it challenges for Bird to stay in the market.
For example,
Uber acquired Jump and

added eScooters into its native application

. One that is having a wider loyal customer base. This move has increased the chances of Uber's loyal users to give a try to their new addition, i.e, eScooter ride.

Google added Lime Scooters

and bikes as a mode of transportation in more than 100 cities.

Spin entered into a partnership with the University of Miami's parking and transportation services to bring electric scooters to campuses.
Bird gave a tough competition to these reputed brands by coming up with improved and innovative services. The brand introduced various rules and scooter models to give a seamless experience to users.
Also, it proposed various plans that will offer users as well as other businesses the best of electric scooter economy.
Let's explore some of these 'under the cover' plans of Bird to know what new will be added to Bird electric scooter statistics by next year. Or better say, what new we will experience in the eScooter market.
Bird's Plans for the Future
Bird, with a focus on expansion in the micro-mobility economy, is introducing self-driving vehicles in the marketplace. It is also encouraging the idea of embracing the Bird electric scooter rental services, that enables users to commute on a scooter by paying a weekly or monthly amount.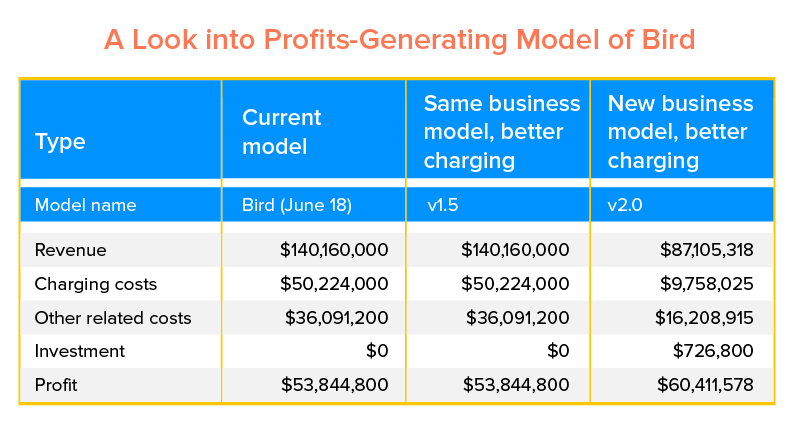 Besides, it is also bringing various minor yet useful changes in its business model and commutation modes to ensure a significant difference in user experience and eventually, in Bird electric scooter statistics.
Frequently Asked Questions
1. Why scooter start-ups are suddenly worth billions?
Bird and other such electric scooter startups are gaining huge momentum in the market because these scooters are eco-friendly, handy, and cost-effective.
2. How Much Do Bird Scooters Cost?
While the cost to ride a eScooter comprises of $1 fixed fee and $0.15 per minute, that of renting a scooter is $25 monthly.
How much money does bird scooters make?
As per Bird's revenue model, every scooter makes around $3.62 per ride.
Prateek Saxena
Co-founder, AppInventiv
In search for strategic sessions?.
Let us understand your business thoroughly and help you
strategies your digital product..
Related Articles: